Sometimes you have to celebrate love with a grand gesture, such as a romantic weekend away from home. Sanne and Jordy, a trendy young couple, decide that Terhills can offer the perfect formula for a successful trip to Limburg. Here they can perfectly combine their 'passion for fashion', their enjoyment of the good things in life, plus a dash of activity. How? You can read about that here.
Overnight stays amidst green spaces and heritage
We prefer to sleep in luxurious surroundings, with a good dose of originality. We therefore quickly chose Terhills Hotel****. Upon arrival, I immediately fall under the spell of the building's fine architecture. Originally the former mine headquarters and now our accommodation for this weekend. The beautiful setting with a French garden, spectacular mine headframe and the greenery of the Hoge Kempen National Park completes the picture. This can only be great! Once inside, we receive a warm welcome with a glass of champagne. Once we had checked in and received information, we head for our room. We are itching to see our weekend hideaway. Jordy takes a look around the room whilst I flop onto the bed. It simply looked 'too' comfortable! One thing is certain, our accommodation is already a resounding success.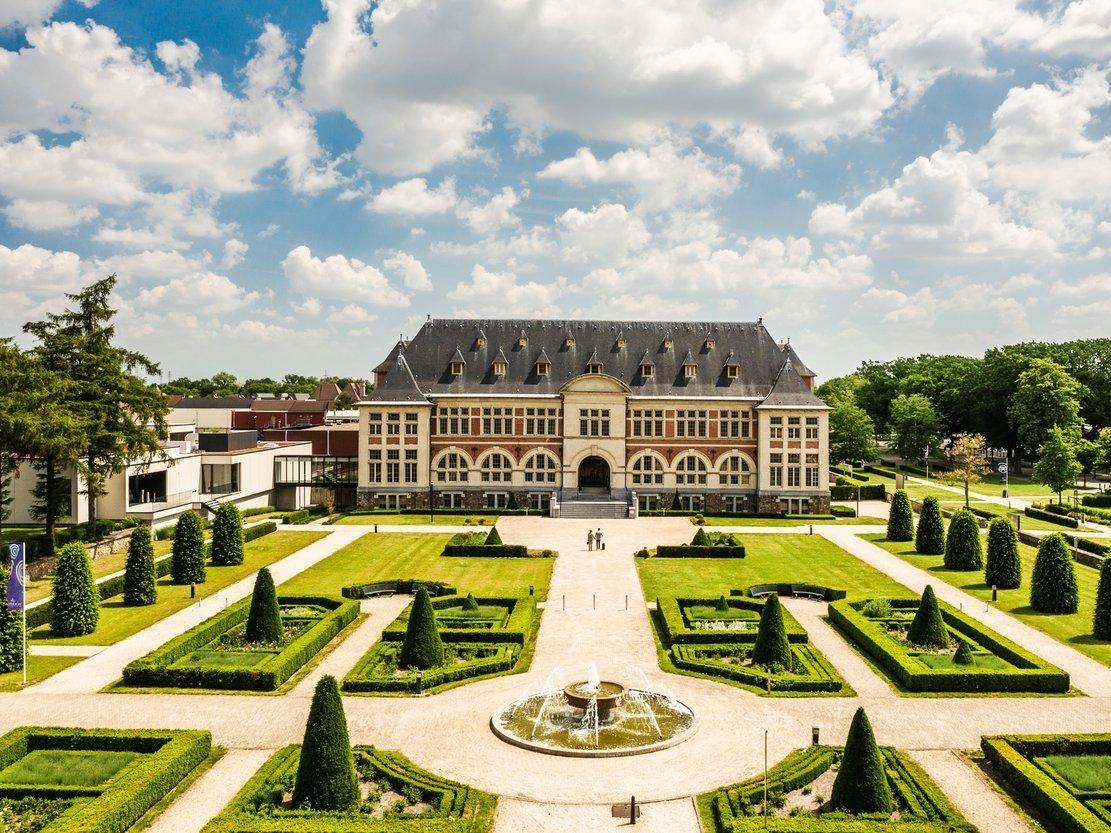 Arty en idyllisch shoppen
After a full inspection of our room, out of curiosity we take a peek at the map of Terhills. This map immediately confirms what we actually already knew: everything that we want to see and do are located in close proximity. As we opted for the 'VIP Shopping' package, we can enjoy a full-blown VIP experience at Maasmechelen Village. Refreshed and with an appetite to shop, we head for the designer village. Josefine, the friendly hostess of Maasmechelen Village, is already waiting for us, to take us to the mysterious 'VIP Lounge'. A sort of loft in the centre of the designer village, decorated with colourful flowers and other whimsical interior objects. We enjoy a glass of champagne and a chat with Josefine before we head to the boutiques, clutching our QR code – which gives us a 10% discount in every boutique.
The entire village is decorated with flowers and in summer colours. Walking around immediately gives you a warm and romantic feeling.
Both Jordy and I were able to find great deals. Whilst wandering from shop to shop, we marvel at the coolest works of art. From a life-size pink replica of the famous Belgian 'Manneken Pis' statue, to the well-known 'LOVE letters'. This includes many walls that have been brightened up and filled with illustrations by Eva Lynen, a talented young artist from Limburg. After shopping, we are quite hungry, but fortunately there is plenty of choice! We choose Le Petit Belge, Belgian food with a twist. One grilled tuna steak and a juicy steak with real Belgian fries later, we head back to our hotel.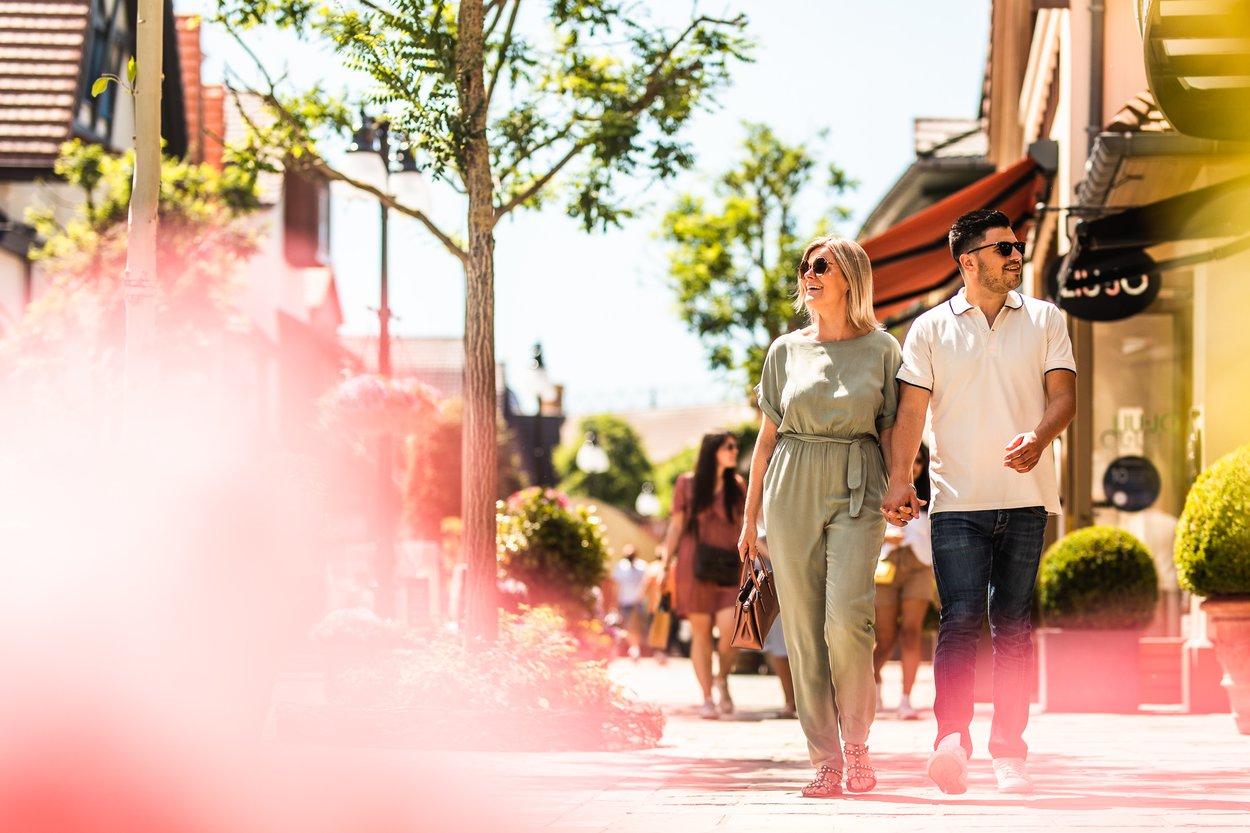 Ready for action!
When we wake up in the morning, we both feel fantastically refreshed– not too difficult with such a comfortable bed – and ready for a new day. But first: breakfast! A knock on the door and a trolley rolls in which makes me really happy. Fresh fruit, eggs and bacon, fragrant rolls, yoghurt, … everything you could possible want. In bed we eat all the goodies, occasionally sharing a strawberry and then have a good stretch, because we have another great day ahead of us. This time, a little more active. On electric bikes, hired from the hotel, we explore the Hoge Kempen National Park. The main entrance to the park is right next to the hotel. We therefore couldn't miss out on seeing this beautiful expanse of nature.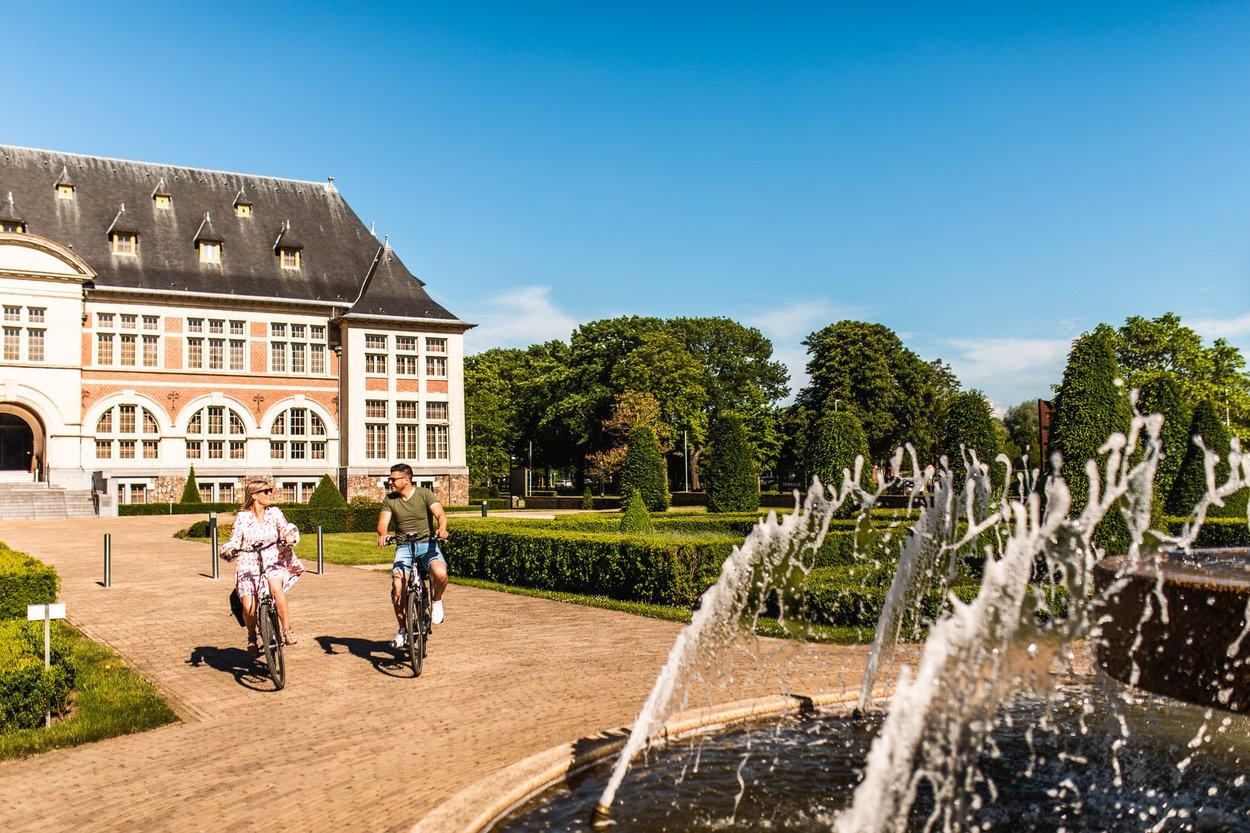 After a bit of pedalling, we set course for Terhills Cablepark, just a stone's throw from the hotel. Jordy had read that you can have endless fun here at the 'Aquapark', a life-size obstacle course in the water. As all is fair in love and war, I simply agreed to this. Go crazy! We take a stroll through the grounds and, yes, there's the splendid 1,500-m2 water attraction. Decked out for fun in the water, we clamber onto the course. We run like drunkards across the wobbly huge course and very soon fall into the water, again, and again. Although I was initially a bit sceptical, I have to admit that we had a wonderful time and laughed a lot. It's a good thing that Jordy sometimes takes me out of my comfort zone!
For the ultimate holiday feeling in Limburg, this is the perfect place to be!
We end our break at the cosy Beachbar at Terhills Cablepark. It isn't until we're sitting here quietly that we realise just how incredibly beautiful this place is. Wakeboarders skim over the water, with a backdrop of the slag heaps and setting sun. We are holding tasty cocktails, with our toes in the sand and enjoyable tunes in the background. We order another portion of nachos and raise a toast to this fantastic weekend!